ARTESIAN ELITE SPAS - HOT TUBS - The most advanced Luxury Spas on the market
Introducing the all new ARTESIAN ELITE line
Completely NEW Range Design replacing the Platinum Elite line
Contemporary, Luxury Design with a beautifully curved high back (108 cm) sloping down to a lower section (93 cm). The high back has the added benefit of protecting occupants from the wind. It's a much more edgy design approach whilst remaining elegant and certainly screaming high-end as intended. Same wonderfully deep, curved, comfortable seats. With a NEW 7ft Model - The Eagle Crest.
World's 1st 7 Pump, MOST POWERFUL yet most ENERGY EFFICIENT Hot Tub! No other spa in the market measures up to the Artesian Elite!
ARTESIAN ELITE features 5 spacious and elegantly designed spas, all equipped with our patented DIRECTFLOW Personal Control® System, allowing for a fully-customizable spa experience.
ARTESIAN ELITE also highlights the latest in technological advances, enhancing the experience of every guest lucky enough to enjoy one of our hydrotherapy getaways. Our patented H20 PowerFlow® Jets melt away tension and stress with ease, helping you instantly sink into a deep and relaxing state of euphoria.
Our Artesian Elite Spas
LUXURY REDEFINED
Luxury can be something of a subjective thing. What seems luxurious to one person may seem substandard at best to another. But there is a level of luxury that's so refined, so beautiful, and so impressive that it's unmistakable. The Artesian Elite line of spas from Artesian are the embodiment of that level of luxury. Every aspect of these spas is designed to provide you with the ultimate therapeutic spa experience. Simply stated, no other spa in the market can measure up to the quality, features, and beauty of a Artesian Elite spa from Artesian.
Artesian Elite Spas Brochure pdf file
PERFORMANCE REDEFINED
Artesian's Elite spas are indeed beautiful. But our spas are far more than just aesthetically pleasing. Behind the graceful lines and pampering surfaces lies the most powerful, sophisticated system ever devised for moving and controlling the flow of water in a spa. This personalised water control system is what truly sets this Artesian spa line apart. The Artesian Elite spa moves more water volume through jets - with much greater power and less resistance than any other spa in the industry. Simply stated, you will not find a better performing, more therapeutic spa anywhere.
COMFORT REDEFINED
When designing our spas we don't use the latest 3D modelling software - in fact, we don't even use a mouse. We use blunt instruments such as chisels, sand blocks, files and putty knives. Indeed, we take pride in just how primitive our design process is. We create our moulds the old fashioned way - we sculpt them by hand. The creation of the beautiful, organic curves that grace our spas is far more art than science, and the intimate human contact with our process ensures that our great designs are built perfectly for the human form.
RELAXATION REDEFINED
There are few sounds more universally soothing than that of running water. It speaks to the most elemental part of ourselves. It soothes us, calms us, and restores us. With that truth in mind, we designed each Artesian Elite spa with:
24 in. AllegroFall
The 24 in. AllegroFall provides a relaxing aesthetic or a gentle neck massage. Similar to a waterfall, the AllegroFall creates a serene atmosphere with soothing water sounds and can be used to entertain or warm water rushing gently on your neck. The DynaBrite Elite LED illuminates the AllegroFall projecting an entertaining hue to your personal oasis.
4 x BellagioFalls BellagioFalls features two adjustable arches of water. This dramatic effect enhances the environment of your Artesian Elite spa, adding to your sensory experience.
Relax while you enjoy the sights and sounds of the BellagioFalls water feature. Your backyard getaway awaits for you to create...
Acrylic Shell Colours
Monarch Elite Cabinetry Colours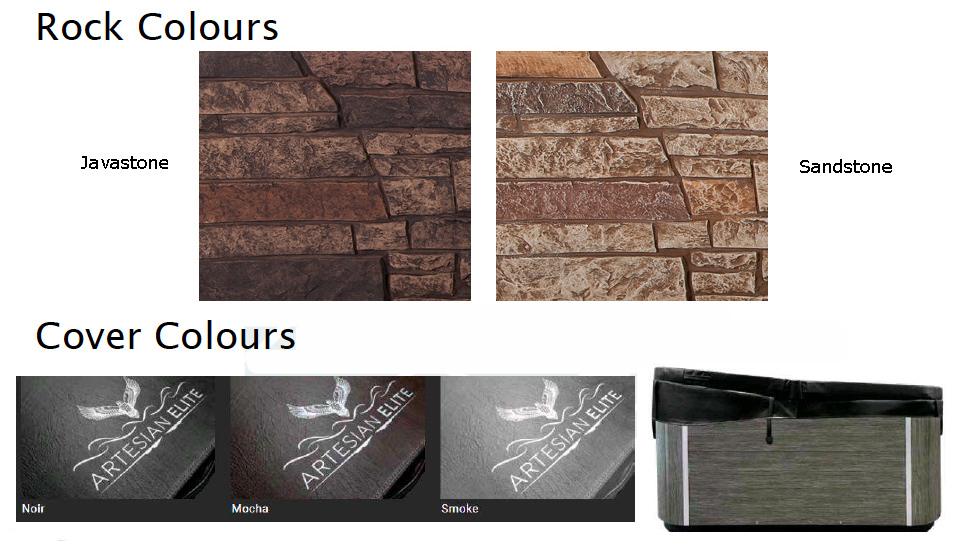 OUR ARTRESIAN ELITE SPAS: