Garden Spas - Plug-in & Play
OUR GARDEN SPAS - Hydrangea Spa (above)
Our Garden Spas - Hot Tubs
Garden Spas are designed and manufactured to fulfill the quality standards of our discriminating consumers; those who require efficiency, quality and aesthetic appeal. Built with an ideal combination of innovative engineering and artistry, apartment and town home owners are no longer excluded from owning a hot tub. Garden Spas are small hot tubs designed especially for use in smaller homes and tight spaces, indoors and out. Garden Spas plug into a standard wall outlet, for an easy plug and play experience.
Garden Spas Brochure pdf file
Standard Features
The Garden Spas have the ability to run on a standard 13 Amp household supply (often referred to as Plug & Play).
Powerful Stainless Steel Jets: Treat yourself to the ultimate massage with these revolutionary jets. This innovative design features powerful jets that relieve tightness and relax muscles, melting away tension and pain in a matter of minutes.
The Garden Spas Filtration System removes contaminants from the water such as dirt, metals and oil to leave you with clean and clear spa water. The filter housing floats with the water line to successfully skim the surface of the water. Inside is a 35 sq. ft. filter. Larger particles are trapped in the upper layer and smaller particles, in the 1-5 micron size, are trapped in the lower part. The filter has exceptional dirt-holding capacity and low pressure drop.
Digital Control with LCD Topside: Take control of your spa with this intuitive, easy-to-use, digital LCD display. The topside control allows you to easily change and adjust various features of your Garden Spa including pump speed, lighting and temperature.
The Garden Spas come standard with a blue LED, illuminating the spa water with a calming light to enhance your spa experience.
Maintenance-Free Kingwood Cabinet: Beautiful, long-lasting Kingwood will add years of maintenance-free life to your spa. With six different colours to choose from, your spa will look beautiful in any weather. Maintenance-free cabinetry will not rot, rust, warp or deteriorate. The panels are made of a durable, synthetic material that can withstand the harshest weather conditions. This all-weather durable, fade-resistant and stain-resistant Kingwood cabinet requires no painting or staining and are easy to clean with soap and water.
ArcticPac Insulation System with ABS Base. The ArcticPac Insulation retains heat well, keeping the spa energy efficient and the water at a tropical temperature.
4 in. Maximum Tapered ASTM Cover: The ASTM Deluxe Cover provides high heat retention for your Garden Spa hot tub. Available in 5 different colours to match the cabinet options available and has a 4″ to 2.5″ approx. taper to allow water to run off.
Ozone Ready: Garden Spas are Ozone Ready, with the necessary technology to add the Ozonator optional feature at any time.
Colours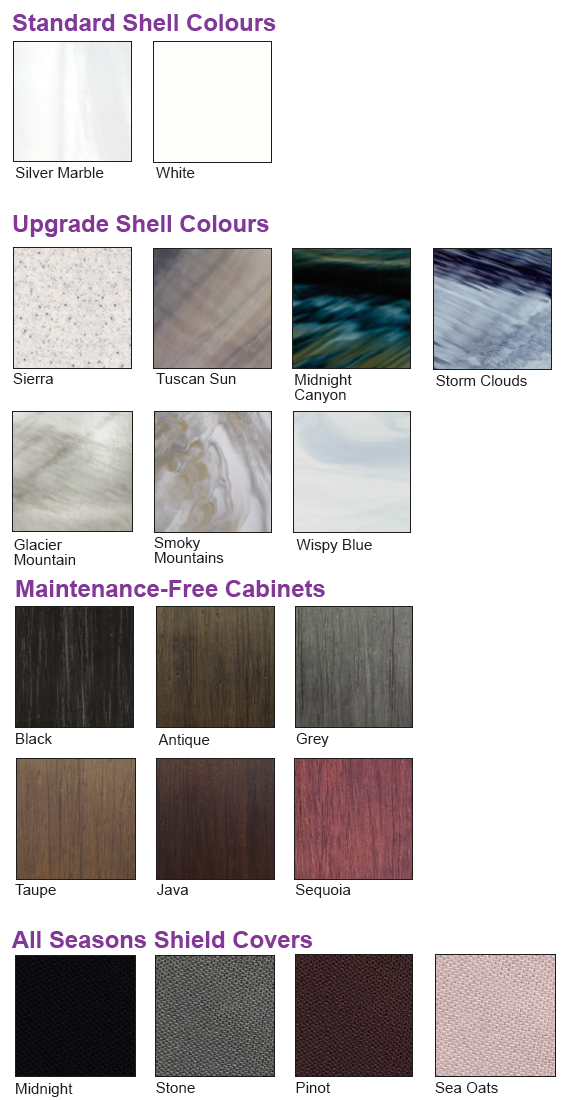 Optional Features
Full Foam Energy Efficient Package: The optional full-foam insulation provides the most efficient heat retention available in any spa on the market as well as adding longevity and additional strength to the plumbing and spa shell.
Multicolour 10 LED: Upgrade the lighting in your Garden Spa with the Multicolour 10 LED system. This Multicolour LED replaces the blue LED light to provide you with 10 different colour settings to create your perfect ambience.

Ozonator: The Ozonator provides additional water treatment which can significantly reduce the amount of water sanitation chemicals required (e.g. Chlorine).